Data Highlighting Non-invasive Vagus Nerve Stimulation (nVNS) for Treatment of Symptoms of Gastroparesis Presented at 2023 American College of Gastroenterology Annual Meeting
October 24, 2023 at 8:00 AM EDT
Clinical Trial suggests nVNS can reduce the use of rescue medications for exacerbations of nausea due to Gastroparesis or Functional Dyspepsia
ROCKAWAY, N.J., Oct. 24, 2023 (GLOBE NEWSWIRE) -- electroCore, Inc. (Nasdaq: ECOR), a commercial-stage bioelectronic medicine and wellness company, today announced top line data from an abstract being presented as an oral podium presentation at the 2023 American College of Gastroenterology Annual Meeting held in Vancouver, Canada from October 23-25, 2023 regarding the potential for nVNS to decrease the use of acute rescue medications for exacerbations of nausea due to Gastroparesis (GP) or Functional Dyspepsia (FD).

Many gastrointestinal disorders can cause nausea and vomiting, of which the most well-known is gastroparesis, a digestive disorder in which the stomach empties slowly.1 The symptoms of gastroparesis can range from mild to severe, requiring prolonged hospitalizations and interventions, and causing life-threatening complications which can significantly affect the quality of life in affected individuals. It is estimated that close to 6 million Americans suffer from gastroparesis which is more common in women than men.2 The economic impact of gastroparesis can be substantial, with studies reporting 11% of patients disabled due to their gastroparesis symptoms, while another 28.5% reported a loss of yearly income.3 
Nausea without slow gastric emptying may be even more common and has been referred to by many names, including chronic unexplained nausea and vomiting (CUNV), gastroparesis-like syndrome (GLS), functional vomiting, and vomiting of unexplained etiology (VUE). Many of these patients can be classified as having functional dyspepsia (FD) which is a disorder that may affect 10% of the US population.4
Non-Invasive Vagal Nerve Stimulation (nVNS) Reduces Nausea Rescue Medication in Patients with Gastroparesis and Related Disorders, with Additional Benefits on Multiple Other Associated Symptoms
This pilot study (n=41) included patients ≥15 years of age with ongoing GP or FD symptoms for a period of ≥3 months. The primary endpoint was reducing the use of antinausea medications by using nVNS as the primary rescue treatment for nausea exacerbations. Exploratory endpoints included changes in GI, autonomic, and psychological symptoms via standardized questionnaires. The study showed nVNS reduced the use of rescue pills per day by more than 50% (p=0.0007; Figure 1). This benefit was maintained throughout each 4-week treatment period of the crossover study as well as during the two, two-week, washout periods. Exploratory endpoints revealed robust improvements in abdominal pain, reflux, indigestion, and constipation. Depression levels, as measured by the Beck Index, improved, and Migraine scores improved with the subjects using fewer headache/migraine pills per day during the study. No serious device-related adverse effects were reported.
Peter Staats, MD, Chief Medical Officer for electroCore, commented, "We congratulate all the investigators and patients that supported this research into the role of nVNS as a novel, non-pharmacologic treatment for patients suffering from gastroparesis. The significant decrease in the use of rescue medications, combined with the many benefits seen in the accompanying symptoms that often plague patients with gastroparesis suggest a new and important role for nVNS."
FIGURE 1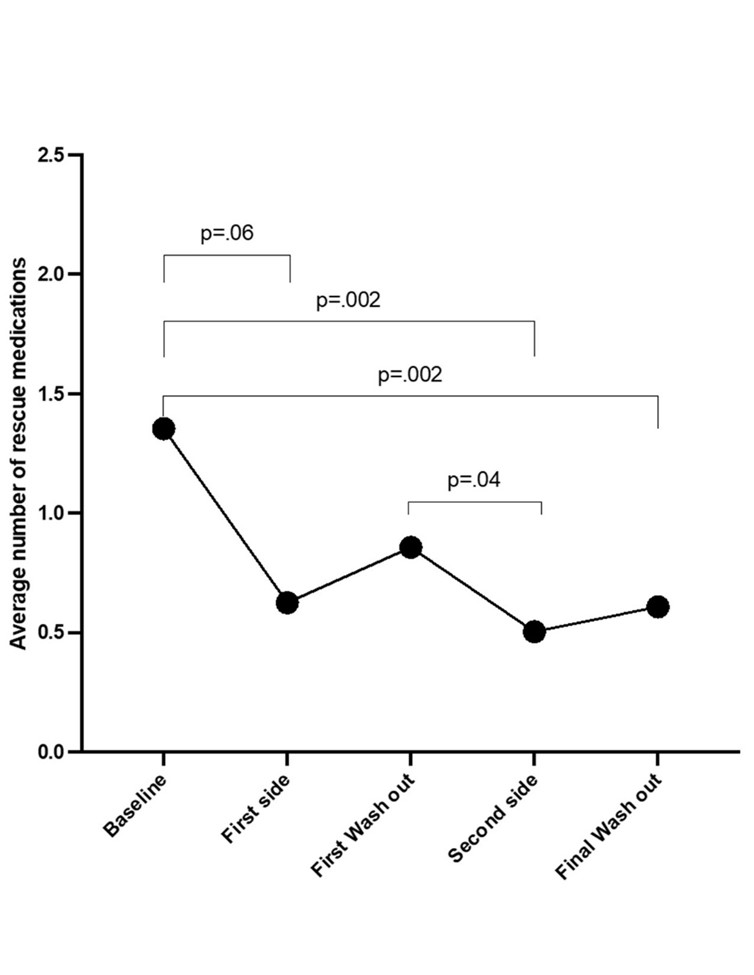 Primary Endpoint (n=35): Average number of nausea pills. Overall significance (Type 3 F test): p=0.0007
Presentation Details:
Date: Wednesday October 25, 2023, 9:00 AM - 9:10 AM
Session: Plenary Session 4B - IBD / Obesity / Stomach
Presentation 68: Non-Invasive Vagal Nerve Stimulation Reduces Nausea Rescue Medication in Patients With Gastroparesis and Related Disorders, With Additional Benefits on Multiple Other Associated Symptom
Authors: Guillermo Barahona5, Luisa Villatoro5, Glenn Treisman6, Megan McKnight6, Robert Burns6, Candace K. McClure7, Eric Liebler8, Pankaj Jay Pasricha5
About electroCore, Inc.
electroCore, Inc. is a commercial stage bioelectronic medicine and wellness company dedicated to improving health through its non-invasive vagus nerve stimulation ("nVNS") technology platform. Our focus is the commercialization of medical devices for the management and treatment of certain medical conditions and consumer product offerings utilizing nVNS to promote general wellbeing and human performance in the United States and select overseas markets.
For more information, visit www.electrocore.com.
Forward-Looking Statements
This press release and other written and oral statements made by representatives of electroCore may contain forward-looking statements within the meaning of the Private Securities Litigation Reform Act of 1995. Such forward-looking statements include, but are not limited to, statements about electroCore's business prospects and clinical and product development plans including potential commercial applications of gammaCore and nVNS to decrease the use of acute rescue medications for exacerbations of nausea due to Gastroparesis and Functional Dyspepsia; its pipeline or potential markets for its technologies; the timing, outcome and impact of regulatory, clinical and commercial developments; the issuance of U.S. and international patents, including patents related to non-invasive nerve stimulation with mobile devices, providing expanded IP coverage; the possibility of future business models, the potential of nVNS generally and gammaCore in particular and other statements that are not historical in nature, particularly those that utilize terminology such as "anticipates," "expects," "believes," "intends," other words of similar meaning, derivations of such words and the use of future dates. Actual results could differ from those projected in any forward-looking statements due to numerous factors. Such factors include, among others, the ability to obtain additional financing necessary to continue electroCore's business, sales and marketing and product development plans, the uncertainties inherent in the development of new products or technologies, the ability to successfully commercialize gammaCore™, competition in the industry in which electroCore operates and general market conditions. All forward-looking statements are made as of the date of this press release, and electroCore undertakes no obligation to update forward-looking statements or to update the reasons why actual results could differ from those projected in the forward-looking statements, except as required by law. Investors should refer to all information set forth in this document and should also refer to the disclosure of risk factors set forth in the reports and other documents electroCore files with the SEC, available at www.sec.gov.

Contact:
ECOR Investor Relations
(973) 302-9253
investors@electrocore.com 
1 Camilleri, M; Parkman HP; Shafi MA; Abell T; Gerson L. Clinical guideline: management of gastroparesis. 2013 Jan; 108 (1): 18-37. 
2 Rey E, Choung RS, Schleck CD, Zinsmeister AR, Talley NJ, Locke GR III. Prevalence of hidden gastroparesis in the community: the gastroparesis"iceberg". J Neurogastroenterol Motil. 2012;18:34–42.
3 Lacy BE, Crowell MD, Mathis C, Bauer D, Heinberg LJ. Gastroparesis: quality of life and health care utilization. J Clin Gastroenterol. 2018; 52: 20–24.
4 Harer, K; Pasricha PJ. Chronic Unexplained Nausea and Vomiting or Gastric Neuromuscular Dysfunction (GND) An Update on Nomenclature, Pathophysiology and Treatment and Relationship to Gastroparesis. 2016 Dec; 14 (4): 410-419.
5 Mayo Clinic Arizona
6 Johns Hopkins University
7 NAMSA (North America Science Associates)
8 Nisola Consulting 
A photo accompanying this announcement is available at https://www.globenewswire.com/NewsRoom/AttachmentNg/8fcab29c-b71f-4485-a2f3-2427e9f8b2e3